✺ Graphic Design
Hegemonia Saliva (a visual Dialogue)
In collaboration with Dominik Fleischmann.
This work has been selected for Nuoret 2023. It will be exhibited at the Gallery Hippolyte 5.–28.5.2023.

Through the intersection of both of their practices and bodily and mental positions, Amy (she/they, Graphic Design, Guatemala – based in Helsinki) and Dominik (He/Him, Photography, Germany – based in Helsinki) engage in a discussion about decolonization practices through a visual dialogue. Nourished by their current conditions and experiences on Earth, combined with their personal contrasting backgrounds, the dialogue unravels within a net of digital media, questions of global colonial powers and the current relationship between Europe and Latin America.
Inside this visual dialogue, the duo explores the possibilities of deconstructing and decolonizing visual language. The first chapter of the dialogue was discussed mainly through the depiction of nature and the autochthonous in our present residence space contrasted against the reflection of our past physical and cultural positions. The output took the form of a risoprinted Zine.
Risograph. Hand bound.
In the form of a pursue of visual decolonization by repurposing photographs into a different graphic representation (which translates into a different context), Paraíso Terrenal (zine, publication) calls to reflection by using layout as a critical narrative.
Flip through the zine︎︎︎
As a continuation of this decolonization pursue, new visuals emerged as the dialogue evolved. The video performance, lollypop_1.mp4, attempts to feed some of the points that Paraíso Terrenal highlights. The very colonial attitude of sexualizing and fetishizing manifests through the audio-visual piece which is acoustically accompanied by Fragma's "Toca Me".

Tócame = "Touch me" (Spanish) Fragma = German vocal trance music group
Amy and Dominik met in Finland during their studies at Aalto University, School of Arts, Design and Architecture. Hegemoia Saliva is the first exhibition collaboration of the two artists.

Their visual dialogue premiered at Galleria Uusi Kipinä in Lahti on Tuesday, 21. September. The exhibition was on view from 22. September to 10. October 2021.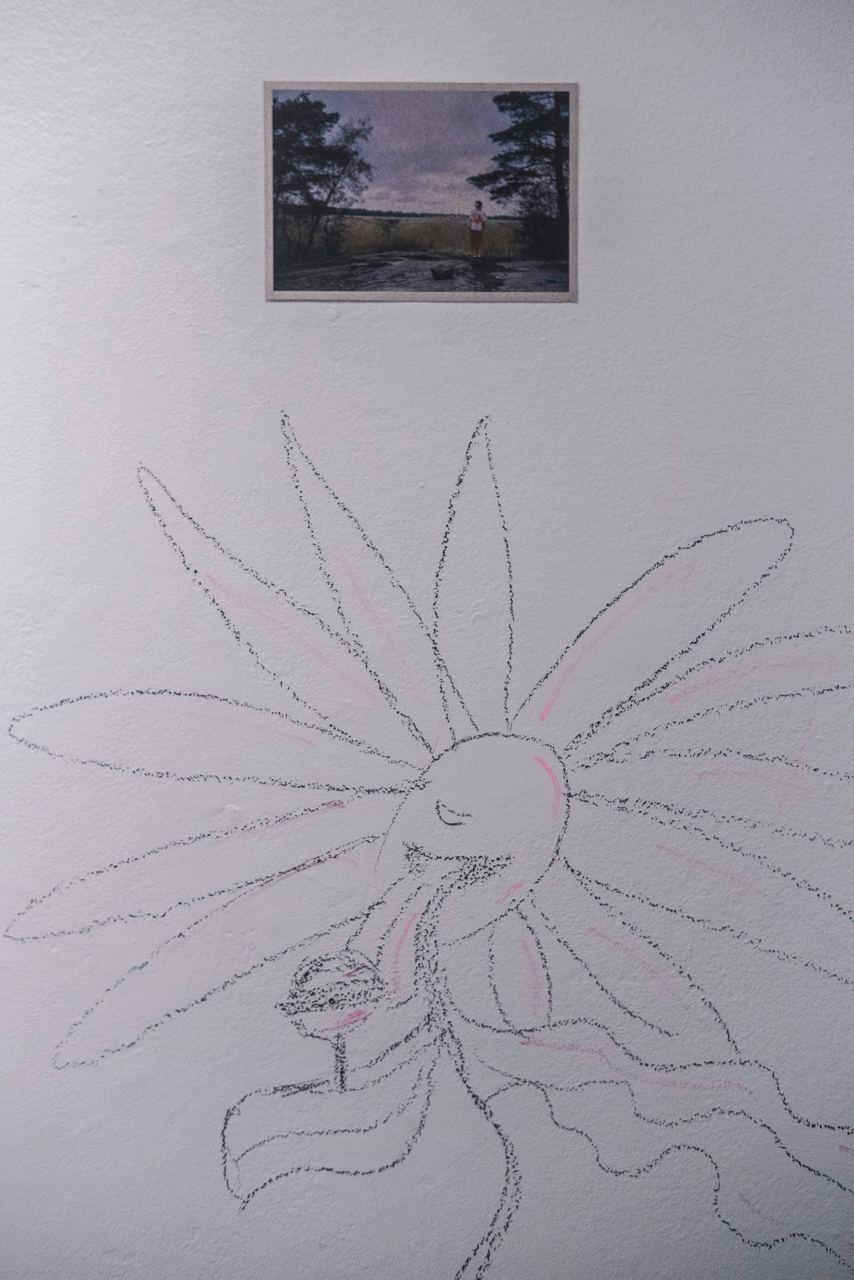 This project was successfully completed with the support of